"We are working on it and we'll look at it in 2019," Edwin Devakumar, group executive director at Dangote Industries Ltd., said in an interview near Lagos, Nigeria's commercial capital, on Wednesday. "We have grown to this extent mostly via greenfield investments. To grow much more, we'd probably have to do it via acquisitions."
A number of banks have approached the company to arrange the initial public offering, though none has been mandated and there's been no decision about how much to raise, he said. About 15 percent of Dangote Cement's shares are listed in Lagos, where it has a market value of 3.9 trillion naira ($10.8 billion). The stock is down 2.2 percent this year.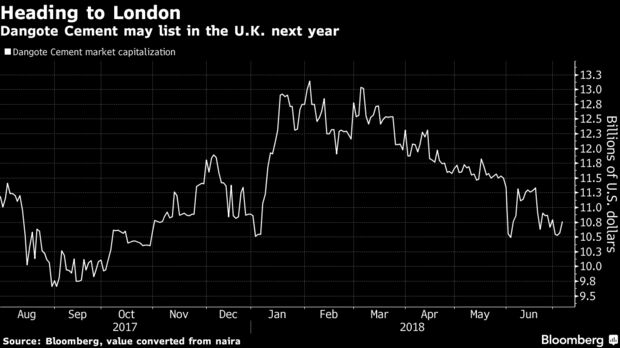 The firm, controlled by Africa's richest man, Aliko Dangote, considered raising equity in London back in 2010. At the time, Goldman Sachs Group Inc., JPMorgan Chase & Co. and Morgan Stanley helped it prepare a sale that could have raised as much as $5 billion, before the move was abandoned.
Dangote Cement has looked at expanding outside of Africa into markets such as Brazil, Peru and Nepal, according to Devakumar, who was chief executive officer until 2015. Dangote Industries is a holding company for the billionaire's interests, which include sugar, flour, oil refining and petrochemicals as well as cement.
The revival of the IPO plans led to Dangote Cement appointing former Xstrata Plc CEO Mick Davis and Cherie Blair, a British lawyer, to its board in April.
"That was another step toward the listing," said Devakumar.
Nigeria's presidential and parliamentary vote is scheduled for Feb. 16, with incumbent Muhammadu Buhari set to run for a second term. Elections for state governors will take place in March. The economy, which vies with South Africa as the continent's largest, is slowly recovering after being battered by a crash in oil prices in 2014.