Senegal got almost $10 billion of orders for a $2.2 billion Eurobond on Tuesday as debt from African governments remains in hot demand with yield-hungry investors, according to a person familiar with the matter.
The West African nation sold 1 billion euros ($1.2 billion) of notes with an average life of nine years and a separate $1 billion 29-year tranche, said the person, who's not authorized to speak publicly about the matter and asked not to be identified. The euro notes yielded 4.75 percent and the dollar securities 6.75 percent, said the person.
Senegal garnered around $9.5 billion of bids by the time final pricing was decided, the person said. Initial price guidance for the euro portion was 5.125 percent to 5.25 percent, and 7.125 percent to 7.25 percent for the dollar tranche.
Spokesmen for Senegal's government and finance ministry didn't answer calls seeking comment.
No Surprise
The high demand was "no surprise" because Senegal is a "good and improving credit," said Richard Segal, a senior analyst in London with Manulife Asset Management, a $400 billion money manager.
Yields on Senegal's $500 million of bonds due in 2024 rose 1 basis point to 5.4 percent by 9:09 a.m. in London. The notes have made a loss of 1.9 percent this year, less than the average loss for emerging-market government debt of 2.3 percent.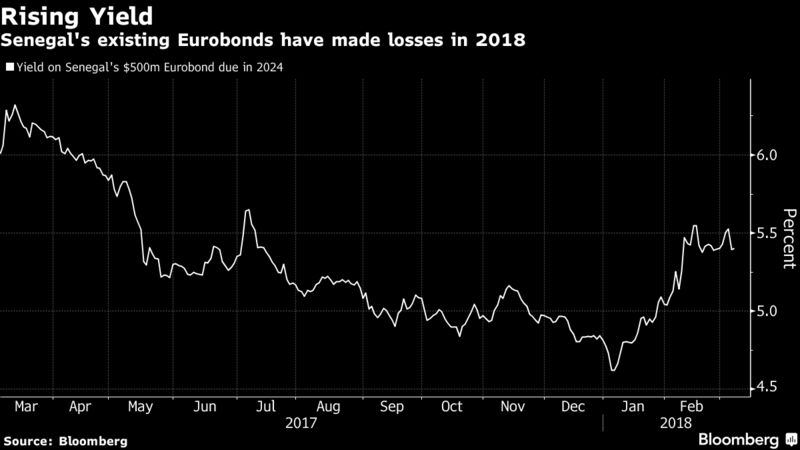 The West African nation followed Egypt, Nigeria and Kenya, which have sold $8.5 billion of Eurobonds this year. Senegal's deal will take the total issuance from African sovereigns in 2018 to $10.7 billion, which is already more than what they sold in all of 2016 and more than half last year's record $18 billion, according to data compiled by Bloomberg.
Senegal's government will use as much as $200 million of the proceeds to buy backsome of its dollar securities maturing in 2021. BNP Paribas SA, Citigroup Inc., Deutsche Bank AG, Natixis SA, Societe Generale SA and Standard Chartered Plc managed the deal.