Africa is entering the oil-hunt spotlight as drillers, flush with cash after crude's recovery, are turning their attention back to the continent's potentially vast resources.
The world's biggest companies from Exxon Mobil Corp. to Royal Dutch Shell Plc and BP Plc are setting up camp across Africa. Armed with stronger balance sheets and higher crude prices the industry is on track to double drilling in African waters this year. Rising natural gas demand is adding to the attraction.
"The majors starting to move into these areas for exploration again is probably the first sign of things picking up," said Adam Pollard, an analyst at consultant Wood MacKenzie Ltd. He said Africa "may be one of the first to get hit when the price goes against explorers, but equally it's perceived to be one of the places where people are keen to get involved when the price is supportive."
There are plenty of signs of a recovery. Rigs working in waters off Africa have increased to the highest in two years, according to Baker Hughes data. Consultant Rystad Energy AS expects 30 offshore exploration wells to be drilled this year compared with 17 last year.
Acquisitions along the west coast, seen as a geological mirror of the other side of the Atlantic where huge discoveries have been made from Guyana to Brazil, have also accelerated. Shell secured its first exploration acreage offshore Mauritania in July and Exxon bought stakes in Namibian fields in August.
Companies drilled almost 100 exploration wells in African waters each year on average from 2011 to 2014, as Brent prices stayed above $100 a barrel, according to Rystad's data. Then came crude's slump to nearly $27 in 2016, and spending suffered because the best prospects are in deep waters, making them expensive to drill. The slowdown contributed to declining production.
Oil has since recovered, trading above $77 on Wednesday, making exploration attractive again, according to Tracey Henderson, who has lived through three boom and bust cycles in the continent.
"The more you see the less you tend to get too fussed about" the troughs and crests, Henderson, senior vice president of exploration at Dallas-based Kosmos Energy Ltd., which gets almost all its revenue from Africa, said in an interview.
For companies willing to take the risk, the prize could be significant. There's a high probability that there's at least 41 billion barrels of oil and 319 trillion cubic feet of gas yet to be discovered in sub-Saharan Africa, according to a U.S. Geological Survey report of 2016. That's equivalent to more than five years of the U.S.'s oil consumption and 12 years of gas.
Kosmos used oil's downturn to buy up licenses. Last year it acquired five offshore blocks in Ivory Coast. At the same time, it also sold stakes in fields in Mauritania and Senegal to BP in 2016, as the British company builds its natural gas business in anticipation of rising demand. Kosmos and BP have said they're continuing exploration in the assets.
In another part of the continent, London-based Tullow Oil Plc is scheduled to drill a much anticipated well offshore Namibia this month, hoping to revive prospects in the southern African nation that went quiet after at least 14 wells failed to find commercial oil deposits.
They are plenty of prospects and "any discovery will only spark further interest and excitement," Wood Mackenzie's Pollard said.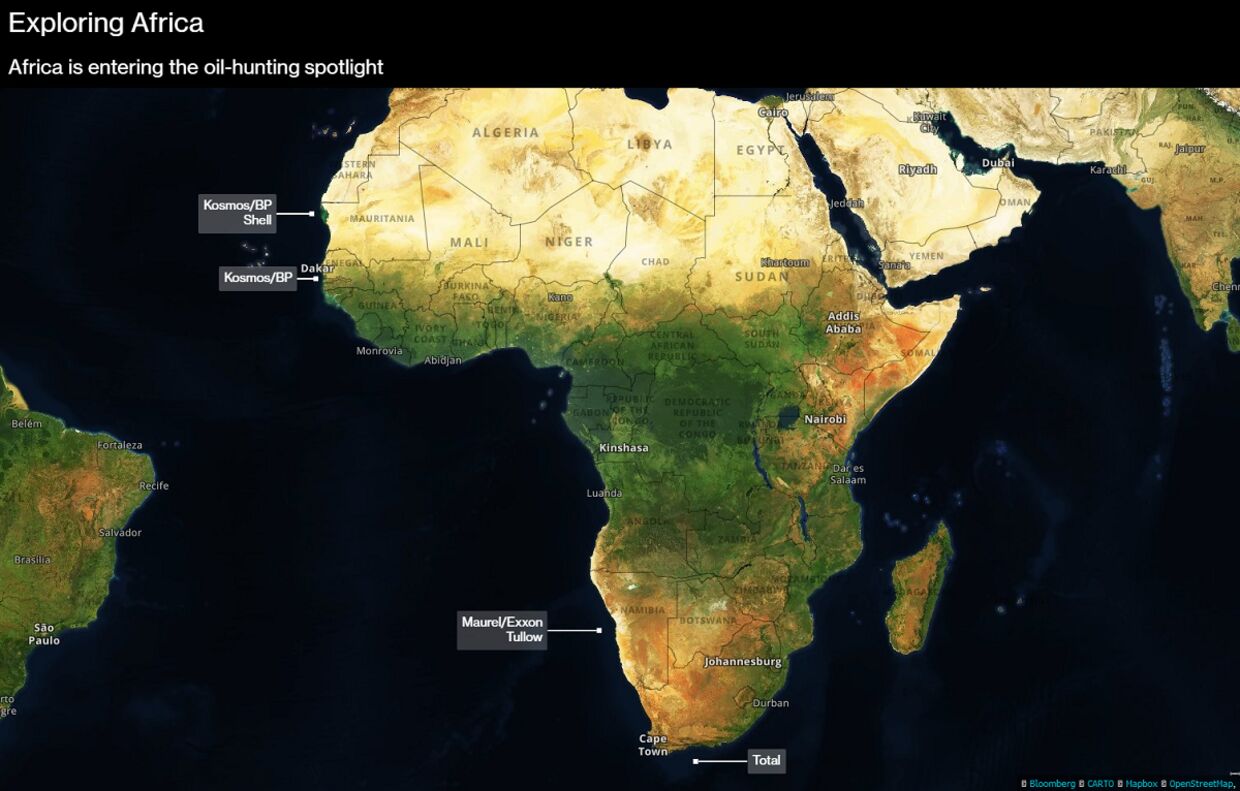 "We always intended to return to exploration but clearly market conditions are now more favorable, and we have the portfolio to return to drilling in a careful and disciplined way," Tullow's spokesman George Cazenove said in an email.
Exploration budgets are one of the first to be cut by companies during downturns. But when prices steady, unlocking new reservoirs becomes paramount as they secure future output. Investors value oil firms on how much new reserves they are adding to compensate for what they produce.
"The sense of optimism has definitely taken hold at this point," Kosmos's Henderson said.